RETURNING TO BERLIN

February 14, 2012 - Under Rich Earth returns to Berlin as part of the Latinokino Series at "New Yorck 59″ (Mariannenplatz 2, 10999 Berlin - U-Bhf. Görlitzer Bahnhof, Kottbuser Tor):
20.00 Uhr Film/Doku: "Bajo suelos ricos - Unter reicher Erde" (Canadá/Ecuador 2008, Original Spanisch) - Cuando el documentalista canadiense Malcolm Rogge arribó a Ecuador en 1996, lo que más le impresionó fue la complejidad del conflicto causado por la explotación petrolera en la zona amazónica. Diez años después, Rogge regresó y empezó el rodaje de Bajo suelos ricos, un documental que evidencia la valentía de una comunidad en su lucha contra la invasión de una compañía minera canadiense. Eintritt: Spende.
LEUPHANA UNIVERSITÄT, LÜNEBURG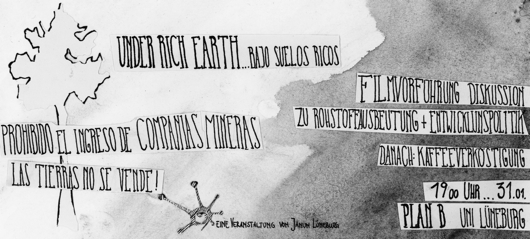 January 30th, 2012 - Under Rich Earth screened at the Leuphana Universität Lüneburg, Germany:
Filmvorführung "Under rich earth" und Diskussion zu Rohstoffausbeutung und Entwicklungspolitik
Was passiert, wenn ein kanadischer Minenkonzern in den Nebelwäldern Ecuadors Kupfer findet? Eine Dokumentation des Kampfes für Natur- und Menschenrechte und eine Debatte mit Freiwilligen des Intag e.V. gibt es am Dienstag, 31.01., 19:00 im PlanB. Außerdem könnt ihr bio-fairen Kaffee aus Ecuador verköstigen. Judith Petzold, KonsuMensch- Gruppe  Lüneburg.
KEWEENAW BAY INDIAN COMMUNITY, MICHIGAN

Under Rich Earth screened on January 11, 2012 in Baraga, Michigan, as the first film of the Mining Impacts on Native Lands Film Series hosted by the Keweenaw Bay Indian Community (KBIC).
GLOBAL STUDIES CENTER, SMITH COLLEGE, MASSACHUSSETTS

Under Rich Earth screened on December 5, 2011, at Smith College - Global Studies Center, Northampton Massachussetts, at an event sponsored by the Center for the Environment, Ecological Design and Sustainability. A student of Smith College published a short blog article about her impressions of the film.
IN UNIVERSITY AND COLLEGE COURSES
Since the educational version was released, Under Rich Earth has been included in numerous courses at Universities and Colleges, including:
"Introduction to Development Studies" - Queen's University, Kingston, Canada
"Sustainability and Environment in the South", Department of Geography & Environmental Studies - Carleton University, Ottawa, Canada
"Geography of International Development: Rethinking Development Geographies - A Rights-based Approach to the Analysis of International Development" - University of Northern British Columbia, Canada
TVES  VENEZUELA
Under Rich Earth was been selected to air on TVES (Venezuelan Social Television) as part of a social documentary series in January and February 2012. This series is presented by the 1000 Metros Bajo Tierra Film Festival (Underground Film Foundation 1000 Metres Under the Ground Festival).
IN THE MEDIA
The Swiss Weekly Newspaper "Woz" published an article by Sonja Wenger about alternative ecological development in the Intag valley called "Ein Idyll mit Zukunft" (An Idyll with a Future).
Berlin-based Blickpunkt-lateinamerika published an article by Bettina Hoyer called "Entwicklung statt Bergbau" (Development verses Mining) about a proposed locally-controlled micro-hydro development project for the Intag valley.