UPCOMING IN TORONT0 - RUTAS PANAMERICANAS
Under Rich Earth will be screening as a late-night feature in the Rutas Panamericanas International Festival of Theatre for Human Rights in Toronto, Canada. The screening is on Friday, May 25th at 10:30pm; admission is free.
PANAMERICAN ROUTES/RUTAS PAN­AMERICANAS, AN INTERNATIONAL FESTIVAL OF THEATRE FOR HUMAN RIGHTS (Aluna). At Theatre Passe Muraille (16 Ryerson). Opens Tuesday (May 15) and runs to May 27. $15-$30, pass $100. 416-504-7529,
For a preview of the festival see Panamerican Routes Ready to Act Globally in Toronto's NOW Magazine.
UPCOMING IN VANCOUVER
Under Rich Earth screens on May 12, 2012 at (Under)Mining Justice Film Festival in Vancouver, Canada, presented by the Vancouver Mining Justice Alliance. For more information, see this article in the Vancouver Observer. "Under Rich Earth - Dramatic on the spot coverage as farmers say "No" to Vancouver-based Copper Mesa corp., and face guns. The shareholders loose. An acclaimed film with a plot twist."
STANFORD UNIVERSITY - CONFERENCE ON INDIGENOUS RIGHTS IN LATIN AMERICA
Under Rich Earth screened on May 7th at Stanford University in conjunction with the Program on Human Rights conference on Indigenous Rights in Latin America.  The screening was sponsored by the environmental justice group of Students for Sustainable Stanford. "Under Rich Earth…explores issues of environmental justice, non-violent protest, indigenous rights, conservation, and the ethics of international investment. We hope that Stanford students, staff, and faculty will come out to the screening to learn more about this inspiring story from Ecuador, and will take part in a discussion about land-grabs and environmental justice after the film."
GREIFSWALD, GERMANY
The German version of Under Rich Earth screened at the Koeppenhaus in Greifswald, Germany on April 28th.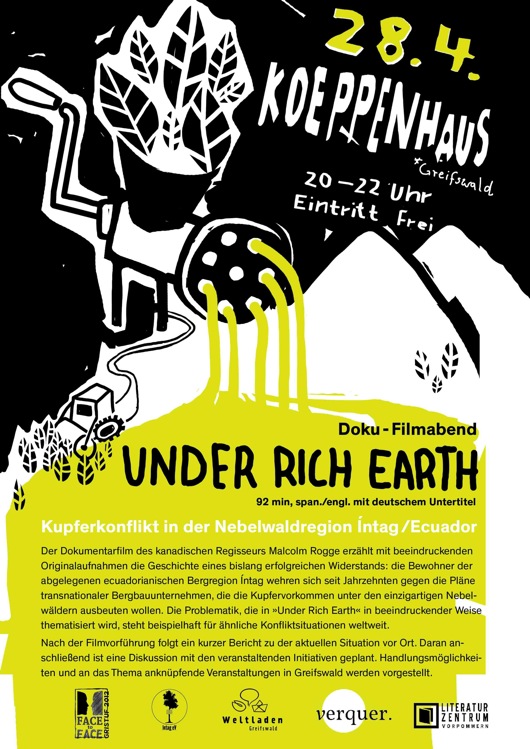 COLUMBIA UNIVERSITY LATIN AMERICAN FILM FESTIVAL
Under Rich Earth screened on April 19th at Columbia University, New York, in the Fifth Annual Latin American Film Festival. The screening was sponsored by the Organization of Latin American Students, CU Film Productions and Columbia University Students for Human Rights.
IN THE PRESS
This feature article on recent films and historical literature dealing with mining conflicts appeared in the Culture Section of Ecuador's leading newspaper, El Comercio. Under Rich Earth (Bajo suelos ricos) is mentioned briefly along with a discussion of A Cielo Abierto, by Ecuadorian documentary filmmaker, Pocho Álvarez.