15 September 2008 - Alberto Ramos, Brussels - Asociación Mundial Cátolica para la Comunicación
"Magnificent… a thrilling and revealing portrayal of the search for justice."
"Under rich earth… reconstruye un suceso ocurrido en 2006 durante las protestas campesinas ante la inminente instalación de una transnacional minera canadiense en la región de Intag, al noroeste del Ecuador. El hecho, cuyas consecuencias para la ecología y la economía agraria habrían sido desastrosas, movilizó espontáneamente a los residentes de la zona en un admirable ejercicio de responsabilidad ciudadana, ajeno a plataformas ideológicas y políticas. En este sentido, Under rich earth es otra muestra del interesante desplazamiento experimentado por el activismo documental contemporáneo, que desmarcándose de las consignas ciegas y los manifiestos incendiarios de antaño, privilegia la objetividad, el protagonismo del sujeto y el rigor de la investigación. La cámara sigue en directo los acontecimientos, reservando no pocas sorpresas y giros dramáticos que convierten a la narración en una emocionante y reveladora travesía en pos de la justicia."
10 September 2008 - Marc Glassman - Classical 96.3FM:
Hot Docs at TIFF This evening at TIFF two excellent documentaries will be screening—and luckily, it's possible to see both tonight. Under Rich Earth, the first feature doc by Torontonian Malcolm Rogge and Upstream Battle by Scottish filmmaker Ben Kempas are tough, lucid films about human rights and the environment. A better—or more relevant–double-bill would be hard to find. Rogge's film has its premiere screening at the AMC 2 at 8:45 pm while Kempas' first repeat showing is at AMC 9 at 6 pm, so festival goers impressed by these two docs selected by TIFF's Thom Powers will experience no difficulty "traveling" between cinemas.
Under Rich Earth is a startling exposé of a Canadian company's suspect dealings in Ecuador. Ascendant Copper—what a monicker!—is a Toronto based firm which has mining interests in countries other than Canada. The Junin region in northwestern Ecuador is one area in which the corporation has invested—to their detriment. Influenced by a negative ecological assessment made by Japanese interests in the '90s, the local Ecuadorian community decided to fight the mining company. Their opinions are obvious: they want to maintain the beautiful land and "rich earth" for their children. The copper company, through local representatives, fought back, at first legally—but tension between the two grew, as time passed. Finally, Ascendant Copper sent in paramilitary troops to scare the locals into surrendering their land. But the community proved to be resilient—and actually caught 56 of the troopers, who, to be fair, were shooting bullets in the air and pepper spray, not killing anyone. Rogge's film captures that fight and the ensuing victory of the agricultural workers over the mining corporation. Under Rich Earth is a graceful, well made, verité doc.
Upstream Battle also chronicles a fight between Natives and corporations. A series of dams has affected the eco-system in northern California, where the Karuk, Yurok and Hoopa tribes have fished salmon for centuries. After toxic waste caused the death of 70,000 salmon in 2002, the situation went from bad to disastrously worse. The tribes joined forces to fight the hydro producing company that was profiting from this exploitation of natural resources. Enter filmmaker Ben Kempas, a veteran doc-maker from Scotland, who became interested in the story when Native tribal leaders went to Scottish Power, then the owner of the dams, to ask them to cease and desist. Years of negotiation followed, all expertly chronicled by Kempas. One gets to know First Nations leaders like Merv and Wendy George, who upset stereotypes by being smart and contemporary in their analysis of the problem. But just when it looks that a solution might occur, Scottish Power sells its interests to Berkshire Hathaway, the corporation owned by Warren Buffet. And everything stalls again…
Filmmakers who don't impose a flashy style on their stories have directed Upstream Battle and Under Rich Earth. Both Ben Kempas and Malcolm Rogge have made works in the grand tradition of socially and politically oriented documentaries: they've let the issues dictate the direction of their films. Like great journalism, these films impart knowledge to the viewer in a clean, linear manner, without losing sight of the complexity of the stories being told. Both deserve to be seen by wide audience
Eye Weekly
NOW Magazine
Toronto Star
Playback Magazine (click on image for larger version)
Inside Entertainment Canada - Festival Highlights by Paul Ginis
Festival Daily - 11 September 2008
Ottawa Citizen - 29 October 2008
The Concordian - Montréal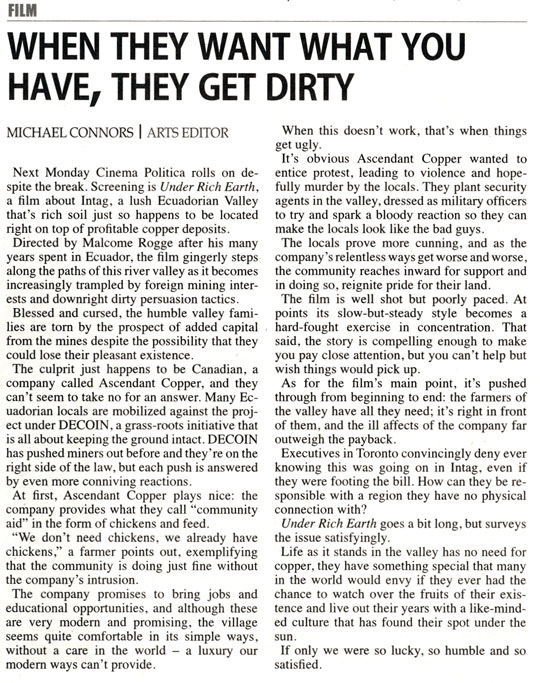 Tip Sheet - NOW Magazine, Toronto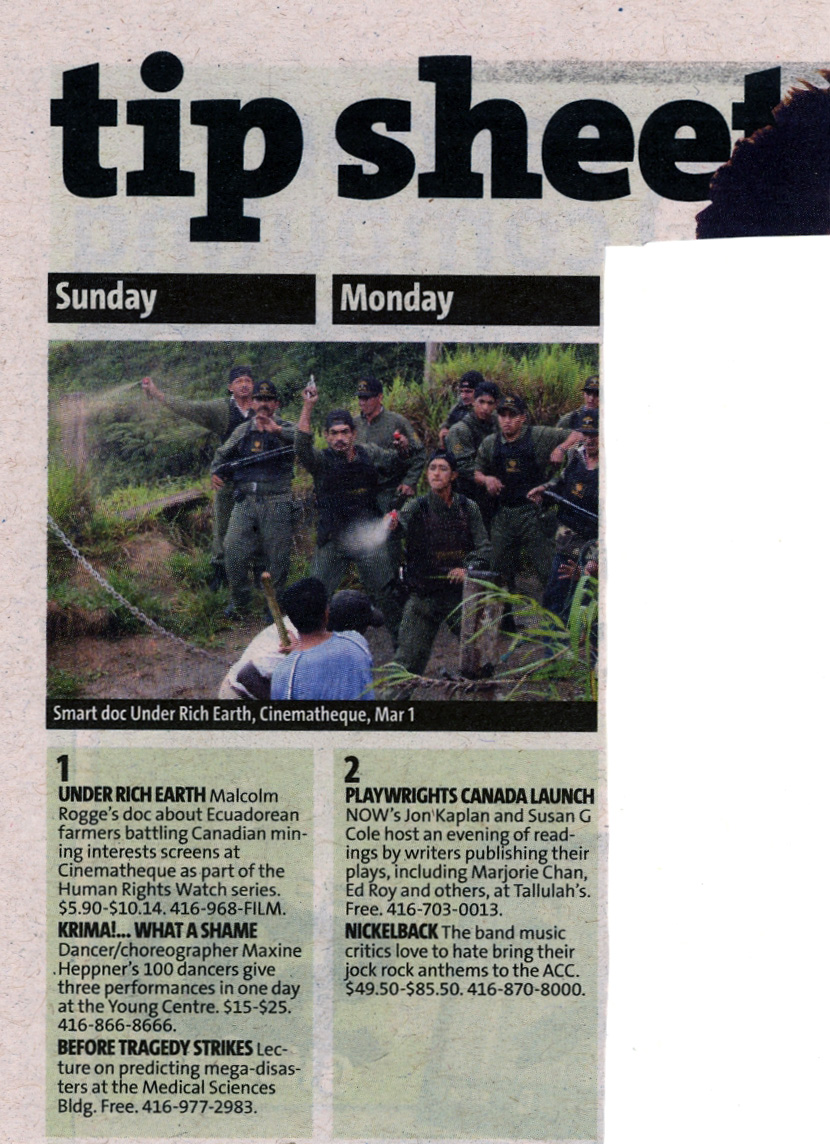 Program Notes - Toronto Human Right's Watch Film Festival