GUADALAJARA, MEXICO
On July 10, 2013, Under Rich Earth (Bajo suelos ricos) screened in Guadalajara, Mexico as part of the Documentadas Cine Club Debate Series.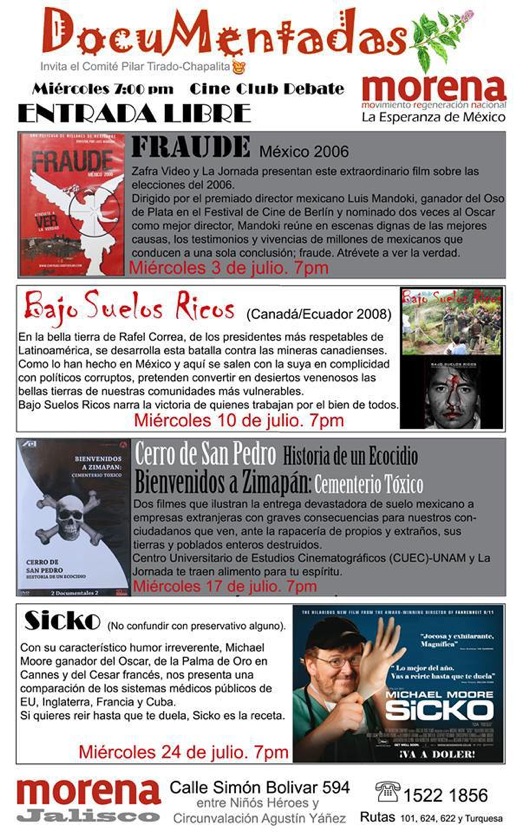 "En la bella tierra de Rafael Correa, de los presidentes más respetables de Latinoamérica, se desarolla esta batalla contra las mineras canadienses. Como lo han hecho en México y aquí se salen con la suya en complicidad con políticos corruptos, pretenden convertir en desiertos venenosos las bellas tierras de nuestras comunidades más vulnerables. Bajo suelos ricos narra la victoria de quienes trabajan por el bien de todos."
REGINA, CANADA
On June 19, 2013, Under Rich Earth screened at the Artful Dodger in Regina, Canada as part of the Canada-wide Cinema Politica documentary series.
BERLIN, GERMANY
On May 8, 2013, Under Rich Earth (Unter reicher Erde) screened at the Freizeithaus Balzerplatz in Berlin, Germany. Following the screening, a discussion was led by the Intag Solidarity Group (Intag-Soli-Gruppe).
SASKATOON, CANADA
On November 13, 2012, Under Rich Earth screened in Saskatoon, Saskatchewan as part of an event with Alain Deneault, author of "IMPERIAL CANADA INC.: LEGAL HAVEN OF CHOICE FOR THE WORLD'S MINING INDUSTRIES "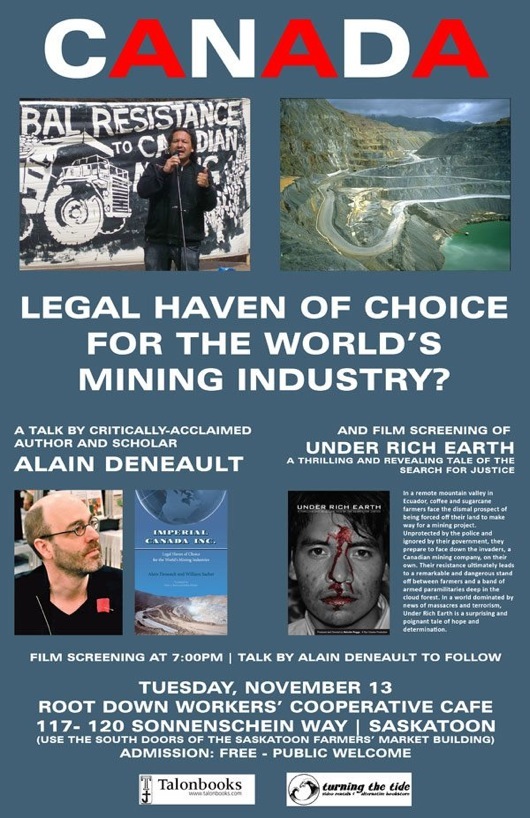 AMNESTY INTERNATIONAL FILM FESTIVAL
On November 4th, 2012, Under Rich Earth screened at the Amnesty International Film Festival in Vancouver, Canada.
FEATURED IN VANCOUVER'S  "THE STRAIGHT"
As a preview of Vancouver's Amnesty International Film Festival, Under Rich Earth was featured in the entertainment weekly The Straight in an article called Canadian Conquistadores Exposed.
HALIFAX, CANADA
On November 7, 2012, the International Development Studies department at Saint Mary's University and Dalhousie University in Halifax, Nova Scotia, presented Under Rich Earth in conjunction with a guest lecture on Legal Action against Canadian Mining Corporations in Latin America.
MEXICO CITY
On September 21st, 2012, Under Rich Earth (Bajo suelos ricos) screened at the Centro Cultural de España in Mexico City as part of the DocsDF Friday night film series (Mexico City International Documentary Film Festival).
PRINCE ALBERT, CANADA
On August 1st, 2012, Under Rich Earth was presented by the Prince Albert Chapter of The Council of Canadians in cooperation with Cinema Politica and JMC Public Library in Prince Albert, British Columbia. Following the screening, a discussion about the film was led by by Sakura Saunders, an independent journalist, activist, and organizer with the Mining Injustice Solidarity Network in Toronto.
STRALSUND, GERMANY
On July 26, 2012, Under Rich Earth (Unter reicher Erde) was presented in Stralsund, Germany at Speicher am Katharinenberg, followed by a discussion with Intag farmer and environmentalist José Cueva: "Die Problematik, die in "Unter reicher Erde" in bemerkenswerter Weise thematisiert wird, steht beispielhaft für ähnliche Konfliktsituationen weltweit. Nach der Filmvorführung folgt ein kurzer Bericht zur aktuellen Situation vor Ort und ein Gespräch mit dem Kaffeebauer und lokalen Umweltschützer José Cueva."
BERLIN, GERMANY
Under Rich Earth was recommended by Berlin-based journalist Bettina Hoyer in a feature podcast about Radio Intag for ONDA - Agéncia radiofónica Latinoamérica-Europa.
MITTELHESSEN, GERMANY
Under Rich Earth (Unter reicher Erde) was recommended by the Globale Film Festival in Mittelhessen, Germany.
DEFENDING WILD SALMON
Defenders of wild salmon in Coast Salish Territory/British Columbia recommended Under Rich Earth as an example of "battles taken on by communities who stand to protect and defend against the industries that would otherwise plow ahead."
EDUCATIONAL INSTITUTIONS
Over the last year, Under Rich Earth was added to the collections of a number of University libraries and educational institutions, including:
University of Toronto Law Library, Canada
Natural Resources Department, Keweenaw Bay Indian Community, U.S.A
St. Mary's College Library, U.S.A.
University of Northern British Columbia, Canada
Neilson Library, Smith College, U.S.A.
Argyle Alternative High School, Canada
Concordia University Library, Montréal, Canada
Northwestern University Library, U.S.A.
Development and Peace, Canada
University of Aukland, Australia
Grant MacEwan University, Canada
Massey University Library, New Zealand
Auraria Library, U.S.A.
Vancouver Island University Library, Canada
University of Saskatchewan, Canada
UNDER RICH EARTH IN UNIVERSITY COURSES
Over the last year, Under Rich Earth was included in course materials for a number of University courses, including:
- A course on Sustainability and Environment in the South in the Department of Geography and Environmental Studies at Carleton University, in Ottawa, Canada.
- A Queen's University Development Studies course on Canada and the 'Third World': "This course introduces basic theoretical concepts of development studies, the history of global inequality, and short histories of alternative development strategies. Case studies of Canada's ties to the so-called third world will include missionaries, military, business, and aid. Canadian colonialism over First Nations peoples will introduce basic issues in Aboriginal Studies."
- a course in Peace & Conflict Studies at Providence College, Rhode Island, U.S.A.

A more detailed educational update is forthcoming.